I'm Alicia and I am a Grammar Nazi. (Everyone say "Hi Alicia")
When I heard that we would be getting the opportunity to review Fix It! Grammar from Institute for Exellence In Writing, I have to admit, my heart skipped a beat.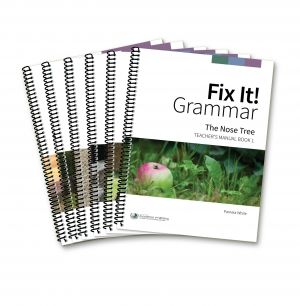 We received The Nose Tree [Student Book 1], which sells for $15.00 and The Nose Tree [Teacher's Manual Book 1], which sells for $19.00. This program covers Grades 3 through 12, depending on your students level. You can also find out where your student needs help by taking the Placement Test.
Even though my children are still relatively young in their schooling, I had been thinking how I was going to teach them proper grammar for quite some time, and it was starting to worry me. Until we received Fix It! Grammar.
In 15 minutes a day, we hunt for and correct errors we find in a daily passage, that by the end of the 33 weeks of lessons, will tell a story. Each book provides 33 weeks of daily passages, along with 132 vocabulary words, reproducible student pages, VERY clear teachers notes and a grammar glossary. Your student will need a binder with 4 tabs, one for Fix Its, Grammar Glossary, Rewrite and Vocabulary.
We start out our week by reading the "Learn It" section in the Student Book. They learn about the grammar concept we will be working on for the week and I show them how to apply the lesson to the passage for the day. Since the markings are illustrated in my Teachers Manual, it's easy for me to guide them.
Then we work on the Fix Its. We read the sentence for the day, I give them the definition for the bolded vocabulary word, which they write in their notebooks, we fix and mark the sentence and then they rewrite the corrected sentence in their notebooks.
The rest of our week centers around fixing the remaining sentences, one each day, and learning the vocabulary words and their definitions. With the lessons only taking 15 minutes a day, it's great for my two short attention span kids.
Now, did we jump in full force with the kids being as excited as I was to get started? I would have to say "No". But as we've continued to work on it, they've started to understand more and more and sometimes will even catch things, such as putting end marks, when doing their handwriting practice.
English was hands down my favorite subject all through school. I could lose myself in the written word, still do. When we started this homeschool adventure in 2012, I started to think ahead of how I would go about teaching them the Language Arts, even though they were only in Kindergarten and Pre-K at the time. Both the spoken and written word can convey so much, and I wanted to be able to teach them to do it properly. With the help of Fix It! Grammar, I'll me able to teach them just that.
I'm also proud to say that IEW is an Oklahoma company, based in Locust Grove, OK. The Fix It! Grammar series covers 6 books, both Student Books and Teacher's Manuals and from Grades 3 through 12. You can give your student the Placement Test, found on the website, before hand so that you know where your students understanding of grammar lies before you make your purchase.
Make sure and check out the reviews of my fellow Crew Mates. Our reviews cover the first 5 books of the series.

You can also connect with IEW online!
Facebook:
https://www.facebook.com/excellenceinwriting
Twitter:
https://twitter.com/iew
Pinterest:
http://www.pinterest.com/iewriting
Google+:
https://plus.google.com/+Iewriting/posts
You Tube:
https://www.youtube.com/user/iewtv
Vimeo:
http://vimeo.com/iewtv

We hope this review has helped you in learning more about IEW and Fix It! Grammar.
Blessings!
Alicia