It's time for another week of clean! Last week's was Cupboards and Drawers. Mine had been needing it for awhile. It was to the point of open cupboard to get something out, think to myself "I need to get that organized", close door and go on with what I'm doing.
The first one I "attacked" was my bowl and baking cupboard. It seriously needed some help.
I took everything out and sorted them all out. Then started evaluating how to put everything back in.
It's like putting a puzzle together.
The next one I attacked was my silverware/junk/towels drawer.
Then came the cupboard under the microwave. This cupboard holds my big pots, blenders, food processor, crock pot.
Then the spare utensil/extra knives drawer, which also holds those pot holders/hot pads.
It was a real mess, so I used some baking dishes I don't use to be able to sort some of the stuff. I'm not sure WHY we have SO MANY knives. :-/
My other cupboards had already been cleaned either in a previous week (The Pantry) or because it's the plates and cups cupboard and I tend to keep it more organized.
Next weeks task is the Fridge, Freezer and Floors! Why don't you join us? If you haven't already.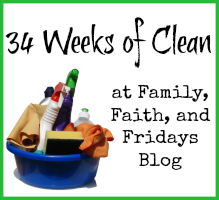 Blessings and have a great weekend!
Alicia