The Mom's of the TOS Review Crew were recently given the opportunity to review either a Motivated Mom's ebook Planner, or the iOS App with a full year of server access. Since my phone at the time was on it's last leg, I chose the planner, full size, with scheduled bible reading in black and white.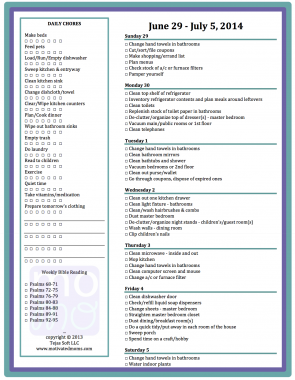 If you're like me, you start each new year with the plan of keeping things done and organized around the house. Everything from laundry to dishes, to your own quiet time and reading to your children.
And within a few weeks, things seem to fall apart and pretty soon nothing is getting done or it's hit and miss. Between homeschooling and taking care of everything around the house, some days, something has to give. And it's usually the chores.
This is where Motivated Mom's comes in. Motivated Mom's is a chore planner for the mom who is trying to get her housework under control, but needs a little boost. Since the planner is in PDF form, you are able to print off as many or as few pages as works for you. I would print off the page for that week, then keep it close to my desk.
Each morning, I would get the sheet and start checking off the items as I completed them.
The daily chores include items such as making beds, feeding pets, do laundry, empty trash, load/run/empty dishwasher, read to children, take vitamins/medications, etc.
Then each day, has it's own chores for that day. For instance, today's chores are:
Change hand towels in bathrooms
Dust children's/guest room(s)
Change a/c or furnace filter
Spend time working on basement/attic or storage space
Clip children's nails
If there was a chore on a day that I had either already done, or it didn't fit for us, such as "Spend time working on basement/attic or storage space", I would just ignore it.
It has greatly helped me in keeping on top of things that need done. I'm the type that I'll notice something that needs to be done, but not do it immediately, because I'm usually busy doing something else. (Oops, did I just admit that out loud?)
Having my Motivated Mom's planner page to keep me on track has kept me from having one of those days where my mind is all over the place at what needs done, not getting half of it accomplished and falling in to bed exhausted and disappointed in myself.
The ebook planners are available in a variety of formats at the reasonable price of $8.00. You can even print off a sample page of the one you like to see if it is the one you want before purchasing.
The iOS app is gives you two months worth of pre-progammed chores with the option to purchase additional server access at 99 cents per month of $7.99 for the year. You can also sync between your iOS devices.
Don't just take my word for how helpful the Motivated Mom's planners are though, check out the reviews of my fellow Crew Mates.
You can also check out Motivated Mom's on Facebook and Twitter.
https://www.facebook.com/motivated.moms
https://twitter.com/momoplanner


Blessings!
Alicia