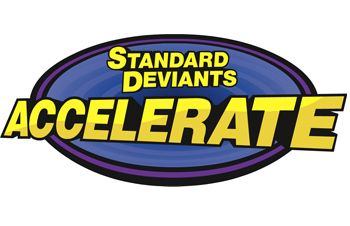 Our latest review comes from Standard Deviants Accelerate. Standard Deviants Accelerate is an online learning resource for ages 8 through adult. It will guide your students through the courses of your choice using both videos and written transcripts.
We received a one year subscription to all of their courses which include:
Arithmetic - Grades 3+
Fundamental Math - Grades 4+
Earth Science - Grades 6+
Nutrition - Grades 6+
Algebra - Grades 7+
Biology - Grades 7+
Chemistry - Grades 9+
English Comp. - Grades 9+
U.S. History - Grades 9+
AP Biolody - Grades 11+
AP Chemistry - Grades 11+
AP U.S. Government & Politics - Grades 11+
AP U.S. History - Grades 11+
AP Eng. Composition - Grades 11+
I chose to use Arithmetic with my son, who is 9. We used it three times a week, I had hoped he'd be able to work through it on his own, but he wanted me by his side the whole time.
Included with our subscription, I received my own account with access to:
Grade Reports
Red Flag Alerts
Editable Scoring Rubrics
Progress Indicators
The students have to have their own email account to create their account on SDA. Their account gives them access to:
Video lessons
Assignments
Automatic grading of quizzes and tests
A note taking feature
A print function
The ability to message a parent for help on a specific lesson
Since you can work at your own pace, you can speed it up if the work is easy for you, or slow it down through tougher areas. The program will even customize the review questions for your students based on the areas they show difficulty.
Have a curriculum you already use? You can add SDA as a supplement to that program, using the videos to help through a difficult subject, or give them another angle to look at something.
Since we chose to work with the math program, some of the subjects covered include whole numbers, addition and subtraction, multiplying whole numbers, dividing whole numbers, decimals, fractions and SO much more.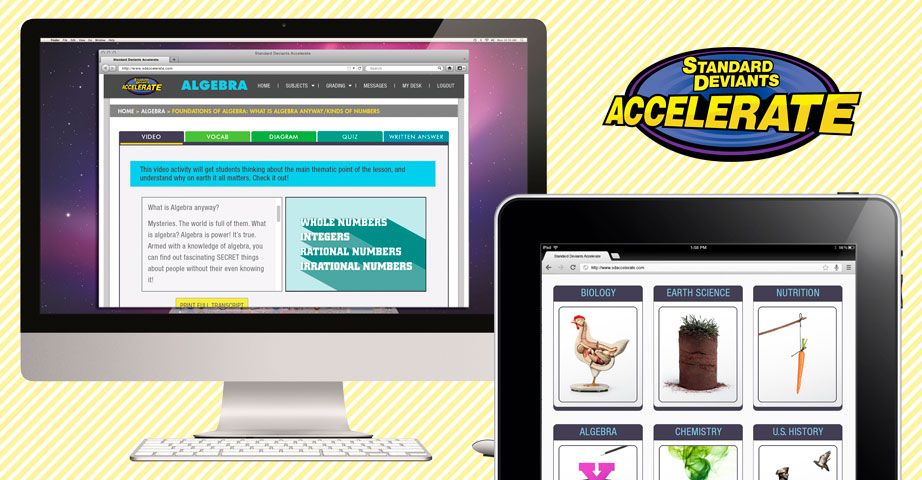 Each lesson consists of 5 steps.
Videos - the videos are 10-15 minutes long, and there are 2-3 under each lesson. They have a transcript you can print off for later, if you need to.
Then we have Vocabulary. Here you'll find definitions of all those important words mentioned in the video, and your student can click on the word to hear it.
The Diagram tab is where all the work is done. He would click and drag items around the screen to answer the questions. Wrong answers won't "stick", so you know if it doesn't stay, you need to keep working at it.
Then the Quiz - that's pretty self-explanatory. They're automatically graded, so the teacher doesn't have to do it.
Written Answer - Ok, math was NEVER my best subject (sometimes it still isn't), and written answer problems have never been a good thing for me. This part of the lessons just confirmed that, and since they didn't make sense to either one of us, we mostly just skipped this part.
Now, what did we think of the program? Although there were parts of it my son liked, for the most part he wasn't too keen on keeping up with the work every day. When I would tell him it was time to do it, often times he wasn't happy. Don't get me wrong, it was NOT the program's fault. I believe he is just too young to "get it". The programs are for ages 8 to adult, but there are some 8 year olds who are more developed than he is. I believe it would be a great program for a student who could get more out of it.






For the regular courses homeschoolers can purchase the course for use by one student for $99 for a year, or $24.95 per month.

If you have older students, AP courses are available for one student for $14.95 per month.
You can give it a try with a 6 month FREE trial. Check it out for yourself! And don't forget to read the reviews by my fellow Crew Mates!


Blessings!
Alicia